The backyard is a highlight in any home. Having a beautiful outdoor space not only adds value to your property but also allows you to escape from the hustle and bustle of daily life while relaxing and unwinding in your own little piece of paradise. There are countless ways to transform your backyard into a space that's truly exceptional. Here are 14 ways that you can turn your outdoor space into an oasis of tranquility.
Plant a garden

It should go without saying but no backyard is complete without a garden. By adding plants, trees, and, of course, flowers, you can make your space feel like a private park. Not only do flowers add color to the spaces, but when a breeze blows, you'll also enjoy a plethora of wonderful scents. Raised garden beds or wooden flower boxes can make your garden that much more beautiful; just make sure you have a hose or sprinkler system for when it's especially hot outside or hasn't rained for awhile.
Add water features

To truly make your backyard feel like an oasis, add some water features. The classics include fountains, ponds, and a pool. These days, people are also installing little creeks which can give a normal backyard the look and feel of a ravine. That said, remember that any water features you add will enhance the space and make it look and feel exceptional.
Incorporate fire elements

Fire is another element that can transform an ordinary backyard into a design showcase. By incorporating a few choice pieces such as tiki torches or a fire pit, you can add an interesting contrast between your water and fire features, making your yard feel like a cottage or even a resort depending on how you go about it. Make sure that you never leave any fires burning unattended, and always extinguish them when you go inside for the night.
Build a new deck
Having a nice deck is a must for those looking to transform their backyards. A deck is often the social hub of your backyard, and it's the place where people spend the most time while enjoying their outdoor space.
Enhance your deck
by adding comfortable seating and, of course, a barbeque for preparing meals. Chances are that your deck is where you'll be entertaining your guests, so make sure it's a good one.
Install a hot tub

Few things in life are more relaxing than soaking in a hot tub. Having your very own spa right in your backyard can make every day a spa day and is one of the best investments you can make for your wellbeing. When you have a hot tub in your backyard, you can soothe your muscles, calm your mind, and rejuvenate your spirit whenever you want, without ever having to leave home. Plus, backyard hot tubs are always a hit with family and friends.
Take advantage of arches

Archways and trellises can add a touch of charm to your outdoor space, transforming it into something truly special. Make your arches even more beautiful by covering them with vines or flowers, which will make the space feel enchanted and magical. You can also add functionality to your arches by placing them along your path, which brings us to the next point.
Create a stone path
If you don't already have a
stone path
in your yard, then you'll definitely want to create one. Without a path, backyard spaces can feel chaotic, but having a pathway connecting all of your other backyard features will make the space appear professionally designed. A bonus tip is to install lighting along your path so that you can continue to enjoy your backyard at night without worrying about trips and falls; torches and LED lights are perfect for this.
Place benches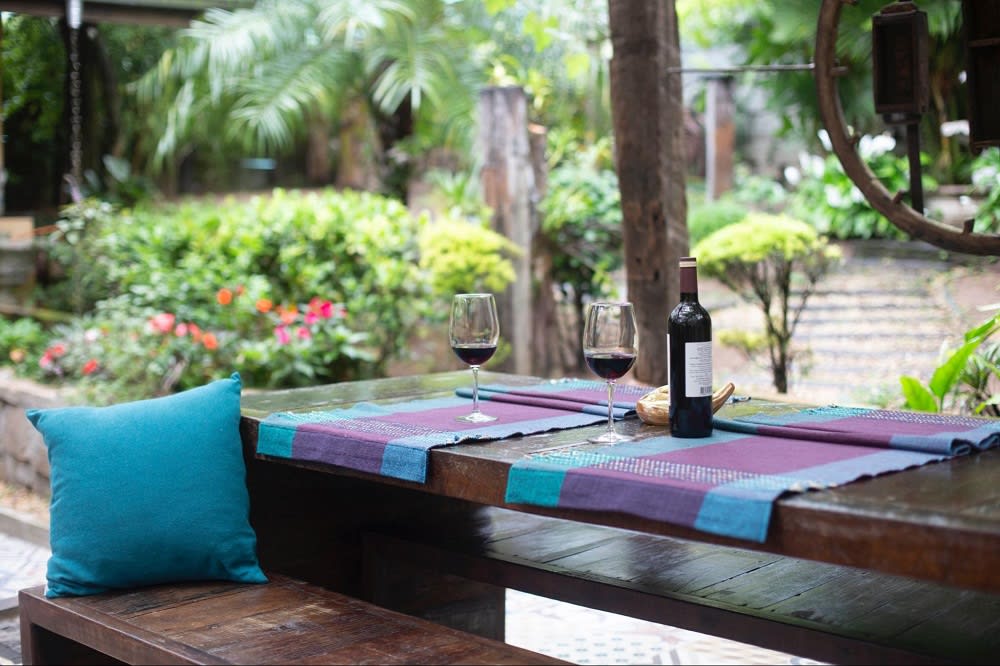 No backyard is complete without a place to sit, unwind, and relax. Whether you want to read a book or spend some quiet time alone with your thoughts, you'll want somewhere cozy to sit down and enjoy your oasis, and a well-placed bench can make all the difference. Position your bench or benches near your garden, where your house is out of view; by doing this, you'll feel like you've been transported to a wonderful private park or an elegant private garden.
Make shade with a pergola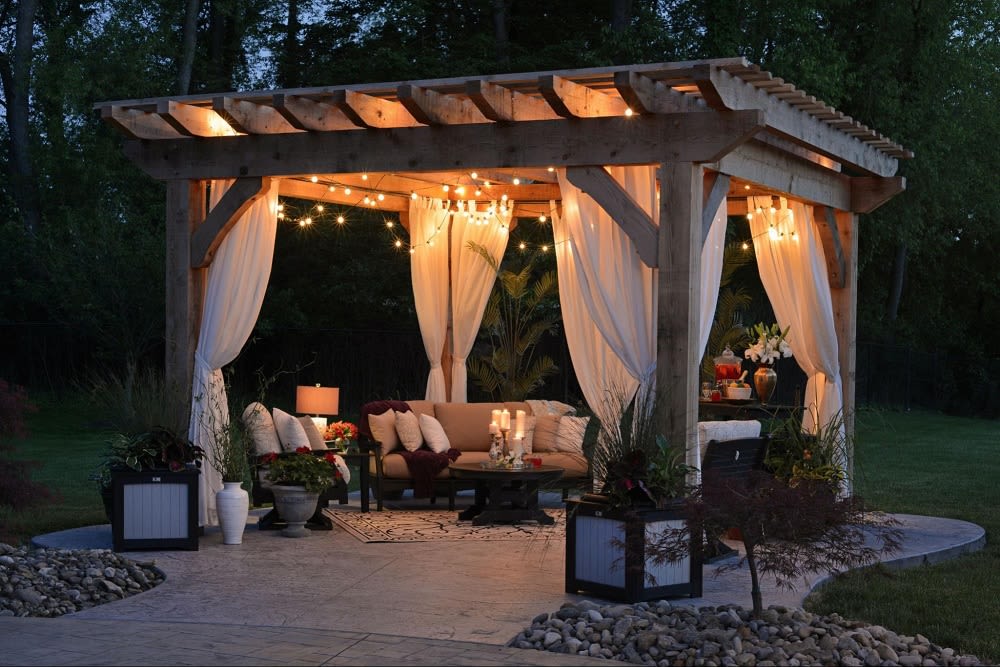 During the hot summer months, you'll definitely be thankful to have some shade in your backyard, and adding a gazebo or pergola is the perfect way to achieve this. Shaded areas make it so that you can enjoy your backyard even on the hottest days without having to worry about heat stroke or getting a sunburn, and they are also the perfect place to entertain guests when the sun makes it uncomfortable to do so on your deck.
Add an outdoor dining area
Most people agree that dining al fresco is much more enjoyable than having your dinner indoors. So, by
creating an outdoor dining space
, you'll be able to enjoy countless meals in your backyard while also hosting outdoor dinner parties, cocktail parties, or other events that are enhanced by being in a beautiful outdoor setting. Ideally, you'll want outdoor dining furniture that can be moved so that if the sun is hot, you can position your dining set in the shade under your pergola, but when the sun isn't scorching, you can move it over to your garden, your deck, or near the pool.
Illuminate the yard with smart lights

As mentioned, backyard lighting is important. Not only can well-placed lights make your yard accessible in the evening and at night, but lighting can also set a mood or change the ambiance of your outdoor space. These days, smart lights are the way to go. LED smart lights can be controlled via an app on your phone, with an A.I. voice assistant, such as Google Assistant, Siri, or Alexa, or else by an old-fashioned remote. By being able to alter the color of your exterior lighting, you can change the look and feel of your entire backyard, which can add a wow factor and enhance the space dramatically.
Hang a hammock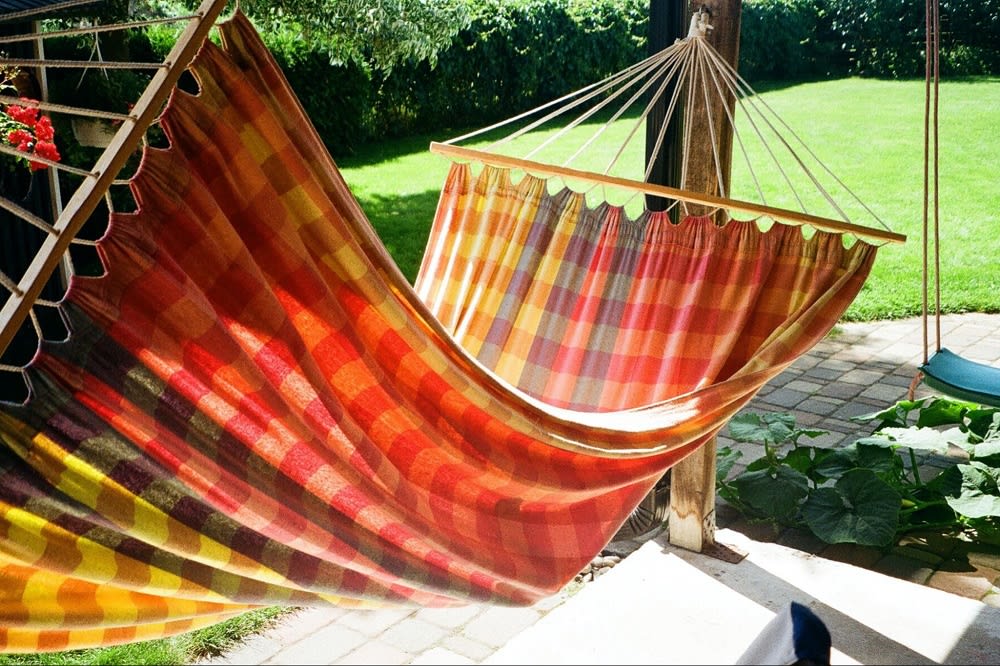 Let's be honest—who doesn't love lounging in a hammock? A backyard hammock is a perfect place to read a book, meditate, or simply enjoy a nap in your outdoor oasis. There are a few different types of hammocks available, but really any of them will do the trick. So, whether you suspend a hammock between two trees or on portable stands, either way, you'll be thankful for your hammock every time you lay down in it. To make your hammock even more comfy, bring out a pillow and light fleece blanket; just remember to bring them back inside when you're finished with your hammock for the day so that they don't get soaked if it rains.
Set up lawn games

Looking to add a splash of fun to your backyard? Set up a few lawn games, such as a horseshoe pit, a lawn bowling area, or even a few holes of mini-putt. Not only will these features make your yard much more fun, but they'll also give your guests another option for something to do when you invite them over for the afternoon or after enjoying a lovely outdoor dinner.
Install a backyard shed

Last but not least, a cluttered yard is unattractive, so consider installing a backyard shed or designating another space for storing your outdoor gear. By having a backyard shed, you can store your lawn care equipment, gardening supplies, pool and hot tub chemicals, backyard games, and everything else that you need for your backyard without having those things occupy your outdoor real estate when not in use. You don't need to have a massive backyard shed, a small storage shed will do the trick, but if you do have the space for something a bit larger, then you can also consider adding a changing room for people to use before hopping in the pool.
Summary
Think of your backyard as a blank canvas that you can paint any way you want. There are plenty of excellent options available that can help you transform an otherwise normal yard into something truly exceptional. By doing so, not only will you be able to dramatically enhance the aesthetic of your outdoor space, you'll be able to increase the level of enjoyment you get from your backyard while adding significant value to your home.
Jan Attard
specializes in Healdsburg real estate, Napa real estate, and St. Helena real estate. So, if you're looking for Healdsburg homes for sale, Napa homes for sale, or St. Helena homes for sale, be sure to
get in touch with Jan Attard today
.