California Wine Country features its own distinct take on high-end living. Although it features the expected trappings of gorgeous residences, an impressive array of amenities, and a remarkable quality of life, areas like Healdsburg, St. Helena, and Napa are elevated by the region's world-class collection of vineyards and wineries. This desirable attribute lends a sense of sophistication and culture to the area. Residents don't just enjoy a truly exceptional lifestyle; they also get to deepen their knowledge of wine and partake in the craft of it if they choose.


Needless to say, Napa is home to exquisite vineyard properties defined by stunning accommodations, majestic scenery, and winemaking. Let's take a look at a few notable examples.
6351 - 6620 Dry Creek Road, Healdsburg, CA
Formerly known as
The Black Ranch
, this farmhouse-style property sits on over 106 acres and is conveniently situated near the town of Healdsburg, CA. There are plenty of other Healdsburg homes for sale, but this property rests in the middle of Dry Creek Valley along a gently murmuring creek – perfect for those who value time in the outdoors. Visitors will immediately notice the dramatic vistas of the valley the home affords, but there's another curiosity that makes this property special. It's one of the last remaining heritage ranches in the region and has been owned by the same family since approximately 1870.

As the home itself dates back to 1954, there is plenty of customization and modern conveniences to accommodate contemporary lifestyles. Fortunately, the property's historic charm remains untouched, and its lengthy history adds an intoxicating sense of nostalgia that few other ranch homes can boast. Usually, Healdsburg real estate leans more towards modern architecture, but rural, tucked-away options like 6351 - 6620 Dry Creek Road still stand to this day and add variety to the region.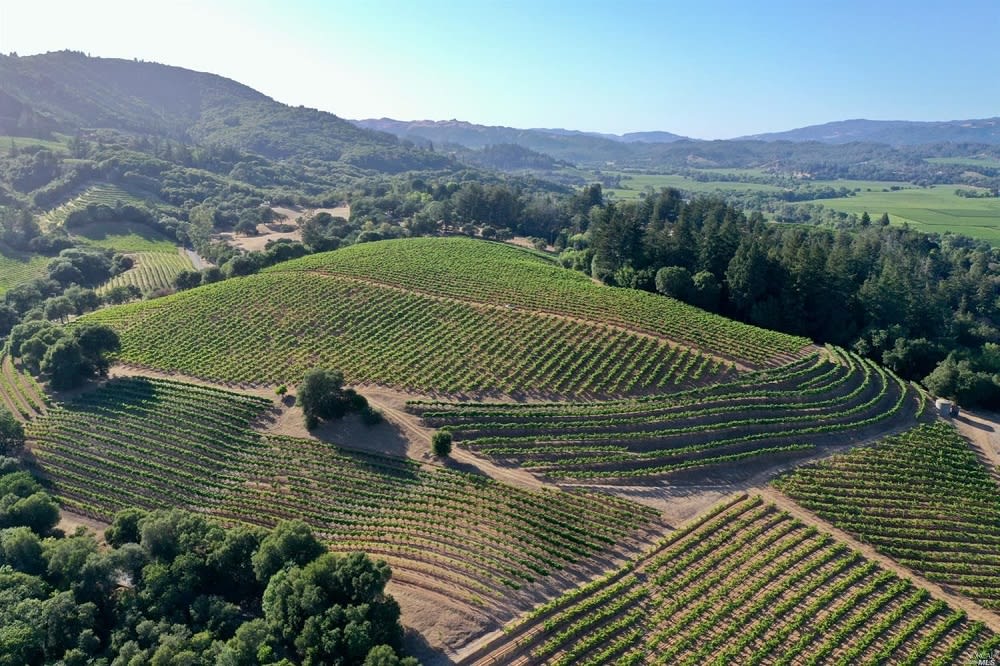 Photo courtesy of JanAttard.com
Interestingly, this vineyard home will also soon include a four-lot subdivision with exclusive parcels for high-end homes. In addition to its lot size, the house itself sprawls across 8,820 square feet and is complete with 8 bedrooms and 4 full bathrooms. No matter the occasion, this property would comfortably accommodate all your guests, allowing you to cultivate marvelous entertaining experiences while on the vineyard's expansive grounds.

When you enter the home, you're greeted by down-to-earth comforts like a rustic living room fireplace that harkens back to the property's roots in the late 19th century. Indeed, this lot remains a functional vineyard and has been so for quite some time. There are small cottages and outbuildings dotting the property in addition to the main home, as the vineyard is still operational. As a matter of fact, there may also be a business opportunity for the more adventurous wine entrepreneur.

This exceptional property is topped off with a quaint garden to complement its vineyard amenities. If you're in the market for a homely, simple property with a dash of nostalgia, don't hesitate to contact Jan Attard to tour the grounds of 6351 – 6620 Dry Creek Road for yourself.
2910 Spring Mountain Road, St. Helena, CA
When you first visit
2910 Spring Mountain Road in St. Helena, CA
, the property's scenic panorama is the first thing that holds on to your attention and doesn't let go. In fact, the property is one of the more pristine lots in the area, with views of Spring Mountain Valley most people never experience unless they join an exclusive community.
The lot itself covers 27.26 acres – enough to operate a modest yet profitable vineyard. The double-lined grapevine rows alone encompass 5.5 acres which is enough to run an active vineyard. Altogether, this property is one of the most successful in Spring Mountain Valley, and it deserves acclaim as arguably one of the top St. Helena homes for sale.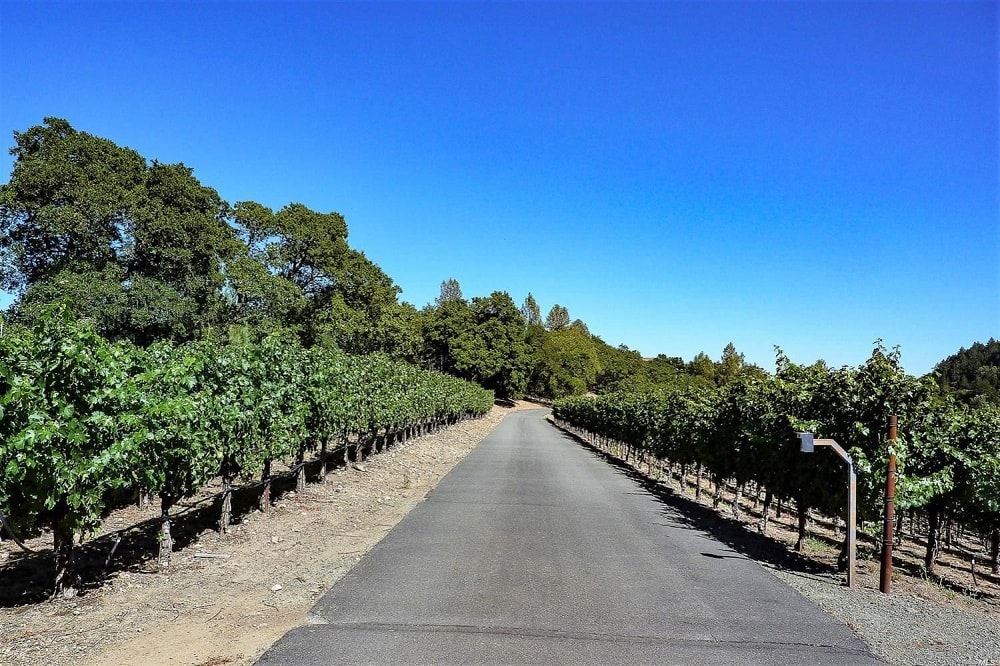 Photo courtesy of JanAttard.com
The wine grape yield for this vineyard can reach as high as 20 tons per harvest which is more than enough to produce quality wine. Each vineyard acre is home to approximately 2,200 different vines, and, interestingly, the best of the harvest goes to
Juslyn Vineyards
which is regarded for its critically acclaimed wines. Unlike other vineyards in the Bay Area, this property will benefit from the power behind Juslyn Vineyards' brand, which is ranked among the top two percent of wineries worldwide.
Whereas the vineyard mentioned above in Healdsburg has a rustic, historic appeal, 2910 Spring Mountain Road in St. Helena is more contemporary with business deals already solidified with Juslyn Vineyards. Not many properties in the region will be fully functioning vineyards, but this property is the exception despite its relatively modest size. However, don't mistake modesty for simplicity. The parcel comes with an identified home construction site for your convenience, and the property now features newly paved access roads. Today, the lot is easy to enter and exit, which is absolutely crucial for a functioning vineyard.
It's even ready for home construction with water and electricity infrastructure in place, so there's no need for additional zoning with the Napa County authorities. In short, 2910 Spring Mountain Road in St. Helena is perfect for those who are not only looking to commission their own home tailored to their specific wants and needs but also to own a successful vineyard with an impressive track record and a multitude of awards. If you are interested in this truly remarkable piece of St. Helena, be sure to contact Jan for representation.
0 Grandview Drive, Napa, CA
Here is a genuine Napa property with all the perks and features you'd expect –
0 Grandview Drive, Napa, CA
. It's situated on the Rolling Oaks Hills Vineyard along the famed
Carneros
region, known for producing exquisite, demi-sec sparkling wines, among many other varietals. The vine rows stretch across more than 107 acres, and the property is still functional and profitable – a distinction most other pieces of vineyard real estate don't have.
Homeowners will enjoy the stunning panoramic views of the property, which feature picturesque, peaceful, and majestic scenes of the surrounding landscape. Although Napa Valley is known for its wine, it also stands apart for its breathtaking beauty and an ideal climate for a variety of agriculture.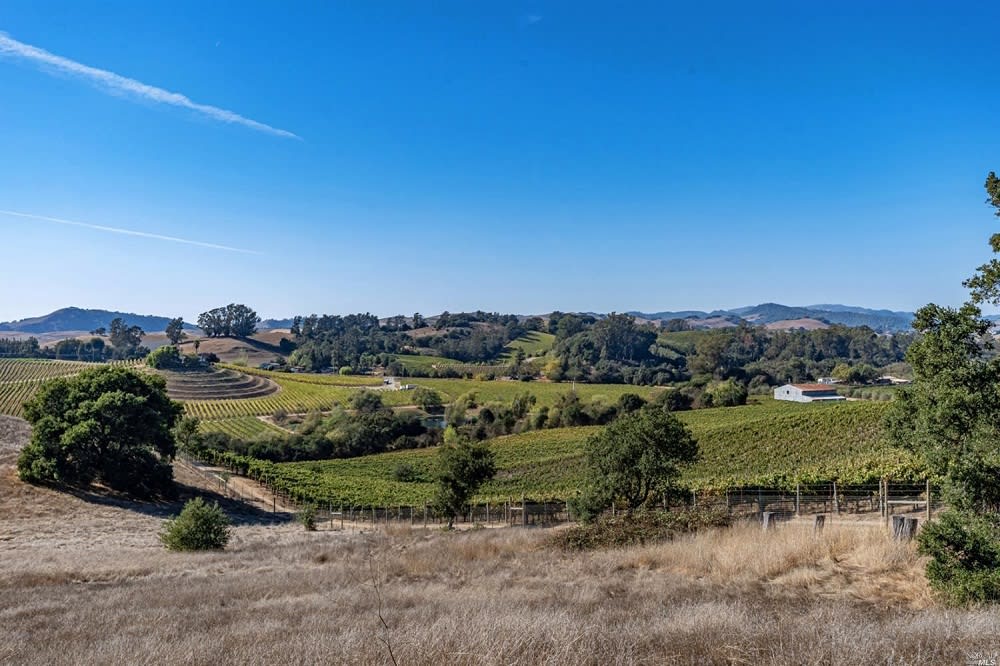 Photo courtesy of JanAttard.com
Furthermore, this property has an air of privacy you'll appreciate as well as a micro-community of outbuildings, barns, and farmhouses for on-site workers. The main home itself is 3-bedroom and 3-bathroom; however, there's also a modest second dwelling unit that is a 2-bedroom and 1-bathroom, which is just the right size for guests who need to stay the night on the grounds. In addition, the site has views in every direction with lines of sight to the city of San Francisco and Mount Tamalpais as well.
Some of the planted wine varietals include Pinot Noir and Chardonnay, demonstrating how well the vineyard functions. Pinot Noir, in particular, is a challenging varietal to work with as it requires a more intricate winemaking process than others. The ideal local climate makes this possible as Napa is a top location for vineyards of all sizes.
The vine rows themselves span 23 acres which is a reasonably sized parcel for a profitable vineyard. The rest of the ground is ready for further development, such as additional wineries or residences. On top of it all, you'll have a valuable set of access roads, unlike other vineyard properties, as well as plenty of open spaces for outdoor activities. Napa real estate ranks among the most high-end in the country, and it can command such prices for a great reason: the area is one of the most exclusive communities in the world.
Ultimately, any of these vineyard properties would make for an exquisite home with plenty of privacy if you're searching for a laid-back yet still sophisticated lifestyle with a potential business opportunity too. If you are interested in learning more about these vineyard properties or about other St. Helena homes for sale,
contact Jan Attard
for expert guidance.